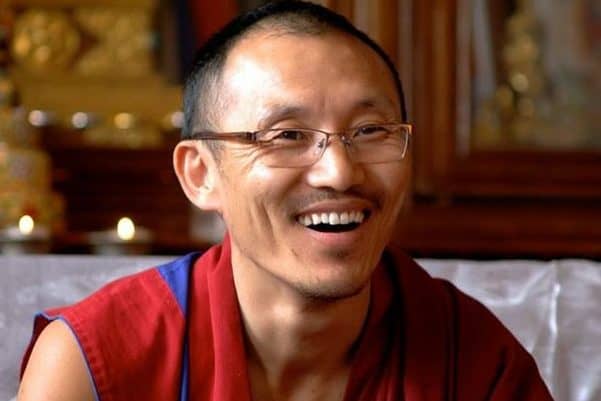 Khenpo Tenpa Yungdrung Rinpoche is the abbot (khenpo) of Triten Norbutse Monastery in Kathmandu, Nepal, one of the two main Bön monasteries outside of Tibet. Khenpo Rinpoche was born in 1969 in Dhorpatan, a remote area of western Nepal that hosts a small Tibetan refugee settlement and a Bön monastery. Established with aid from the Swiss Red Cross, the Dhorpatan settlement is one of the earliest refugee camps for Tibetans in exile; most of its residents are Bönpos from western Tibet.
The monastery in Dhorpatan, Tashi Gegye Thaten Ling, was founded by the 32nd Menri Abbot, Kundun Sherap Lodroe. Khenpo Rinpoche's father, Lama Tsultrim Nyima, was an accomplished practitioner who dedicated his life to the welfare of the Dhorpatan community and the survival of the precious Yungdrung Bön tradition. It was a great loss to Khenpo Rinpoche and the community when his father passed away at a relatively early age. Khenpo Rinpoche expresses deep gratitude toward his mother, Nyima Choedon, who cared for him single-handedly for many years after his father died, and toward his uncle, who first taught him the Bon scriptures.
At age 11 Khenpo Rinpoche joined other students in studying with Lama Sonam Gyaltsen Rinpoche, the abbot of Tashi Gegye Thaten Ling. After completing an initial course of study of the Bön ritual texts and Tibetan calligraphy, he transferred with three other students to Menri Monastery in Dolanji, India, for further studies. In order to reach Menri Monastery, the four young students, along with Lama Sonam Gyaltsen Rinpoche and a man named A-Gyam, spent eight days walking alongside a horse caravan and another three days traveling by bus. Says Khenpo Rinpoche, "Upon our arrival at Menri Monastery I had the golden opportunity to see both His Holiness Menri Trizin Rinpoche and Yongdzin (Lopon) Tenzin Namdak Rinpoche. At that time they were living a simple life in terms of material possessions, but they were engaged in the great endeavor of reestablishing the Yungdrung Bon doctrine in the world."
That month Khenpo Rinpoche and his fellow students were admitted to the dialectic school at Menri Monastery, bring the total number of students there to 26. For 13 years to come, Khenpo Rinpoche and other monks studied the complete Bön philosophical system of sutra, tantra and dzogchen; and the general Tibetan sciences including Tibetan grammar, poetics, white and black astrology, Sanskrit grammar, sacred geometry or arts, and general Tibetan medicine. Khenpo Rinpoche remembers with deep gratitude his teacher Gen Gyaltsen Choglek—affectionately known as Gen Samgha, or "happy hearted teacher"—and notes that his teacher's immeasurable kindness served as a beacon for his studies and his success. A great practitioner, Gen Gyaltsen Choglek passed away at Triten Norbutse with incredible signs of realization in 2002.
In 1986, Khenpo Rinpoche began teaching philosophy and general Tibetan sciences to younger students. During this 13-year period he also participated in many ritual ceremonies and cultural and social activities. From 1989 through 1992 he served as accountant, treasurer and then president of the school, and for a time he also served as the monastery's ritual leader and discipline master. In 1994, having successfully completed the traditional 13-year course of study, Khenpo Rinpoche passed the 10-day final examination and was awarded his geshe degree (doctorate) with acknowledgment from His Holiness the 14th Dalai Lama. At that time 101 students were enrolled in the dialectic school. "All of this was accomplished because of the infinite kindness of my root lama His Holiness Menri Trizin Rinpoche, my root lama His Excellence Yongdzin (Lopon) Tenzin Namdak Rinpoche, Geshe Yungdrung Namgyal, and all of my other teachers," says Khenpo Rinpoche. "Without their love, protection, guidance and the gift of their wisdom, it would not be possible for me to have the good fortune to enjoy the benefit of the precious Yungdrung Bon teachings."
After graduating, Khenpo Rinpoche went to Kathmandu to further his studies of tantra and dzogchen under the guidance of Yongdzin Tenzin Namdak Rinpoche. In 1996 His Holiness Menri Trizin Rinpoche and Yongdzin Rinpoche appointed Khenpo Rinpoche as ponlob (principal teacher) of Triten Norbutse Monastery. Even though this was an unexpected and challenging assignment for a young lama, Khenpo Rinpoche says he strongly felt the blessings of His Holiness and Yongdzin Rinpoche and enthusiastically accepted the opportunity to serve the Bon community and its ancient teachings. Since then Khenpo Rinpoche has taught at the Yungdrung Bon Academy of Higher Studies at Triten Norbutse Monastery, under the blessings of Yongdzin Rinpoche.
In 2001, Rinpoche was appointed as khenpo (abbot) of the monastery by H.H. Menri Trizin Rinpoche and H.E. Yongdzin Tenzin Namdak Rinpoche. Triten Norbutse Monastery was founded by H.E. Yongdzin Tenzin Namdak Rinpoche in 1987 for the preservation and development of the Yungdrung Bön tradition. This is one of the two main Bön monasteries outside Tibet, providing a comprehensive and rigorous study of the broad spectrum of Bön teachings and traditions. Today, 170 resident monks study and practice there.
Since 1998 Khenpo Rinpoche has been regularly traveling around Europe and America giving teachings, including leading retreats with H.E. Yongdzin Rinpoche. Since 2005, with guidance from H.E. Yongdzin Rinpoche and help from dedicated volunteer committees, Khenpo Rinpoche has taken the responsibility of establishing the congregation of Shenten Dargye Ling in Paris, France (http://shenten.org/), for the preservation, research, teaching and practice of the Yungdrung Bon tradition.